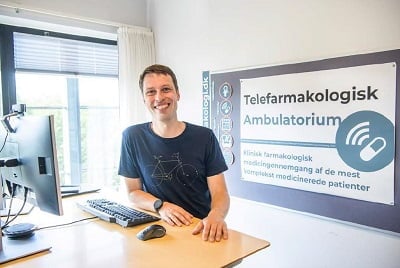 Hello, deprescribers! Today we have another interview blog post with Daniel Pilsgaard Henriksen, Clinical Pharmacologist at Odense University Hospital and Associate Professor at University of Southern Denmark, telling about his experiences with deprescribing in a virtual pharmacology outpatient clinic.
Q: You are currently running a remote pharmacology clinic at Odense University Hospital (Denmark), which offers medication reviews and clinical pharmacological counseling for patients with polypharmacy. Can you tell us about the background for starting this clinic and how it works?
Daniel: The idea of a virtual outpatient pharmacology clinic, providing remote pharmacological support to general practitioners, came when I was working in general practice as a part of my specialty training to become a clinical pharmacologist. During this time the concept was developed with good friends and colleagues, general practitioner and clinical pharmacologist Palle Mark Christensen, and clinical pharmacologist Per Damkier. Our idea was then presented to the luckily very forward-thinking executive of primary care in the Region of Southern Denmark, Frank Ingemann Jensen, who from day 1 has been very supportive and an active part in developing the virtual clinic.
The setup is quite different from the "ordinary" polypharmacy outpatient clinics, where the patient travels to the hospital to be examined. In our region, patients who need specialized treatment from a tertiary hospital have up to two hours of travel. Polypharmacy patients are generally a fragile group so, talking from experience, these patients tend to not show up. Therefore, we have moved the specialist to where the patients are: home and near their general practitioner. General practitioners prescribe and maintain up to 90% of all newly initiated drug therapies in Denmark. So, instead of making ourselves the center of attention in the deprescribing process, it was a natural choice to focus our help toward the general practitioner, so she/he still maintains full control over the patient's treatment. In the end, we believe that this, to a much higher degree, would maintain a permanent and durable change in the patient's medication list. General practitioners are very skilled medical generalists, who maintain a lot more than the patient's medication. They are the patients' main health professional facilitator and their nearest health care provider. So, by using this setup, we are able to provide equal opportunities of care, regardless of demographic disparities in our region; we help to reduce the gap between the primary- and secondary care sectors and support a more near healthcare system.
The patients are referred to the ambulatory, the same way as to any other ambulatory. After going through the patient's history and prior prescriptions, I conduct video conferences with the general practitioner, who implement the changes in the medication list in cooperation with the patient. We encourage patients to join the video conference, but this is not mandatory, and up to the general practitioner and patient to decide.
Q: Which kind of patients do you typically see in the ambulatory?
Daniel: Up until now, patients referred to our virtual outpatient pharmacology clinic are mostly older patients, with a medication list of 15-25 concomitant drugs. However, surprisingly, one-third of all referred patients are under 65 years, and ten percent are under 55 years. Patients often have complex chronic nociceptive and neuropathic pain, cardiovascular disease, and type 2 diabetes. They have often tried almost all types of pain medication, some of them including long-term muscle relaxant therapy; most of them are treated with low or high dose proton pump inhibitors; some of them are treated with low dose loop-diuretics and a few of them with dual antiplatelet therapy.
Q: So, these sound like some very complex patients. Can you share some of your experiences with deprescribing in these patients?
Daniel: The patients are treated with a lot of medicines, so there are often a few easy targets, like long-term paracetamol and high-dose proton pump inhibitors, multivitamins, and low dose loop-diuretics. However, in most cases, we are not solely focused on deprescribing. Rather, it is more of a pragmatic prescribing approach. The general practitioners are oftentimes well aware when the patient is being treated with medications that, at least on paper, are inappropriate. Therefore, it adds no value to highlight the inappropriateness of treatment and insist on deprescribing. It really comes down to how you communicate with the general practitioner and the patient and tailor the recommendations to the patient's needs and situation. Also, trying to simplify the treatment not only helps the patient, but also the general practitioner, as well as the nurse who often is involved in dispensing the treatment to the patient. So, from a patient safety perspective, simplification of treatment makes much sense.
Q: From your point of view as a clinical pharmacologist and researcher, what are some of the key areas of focus for deprescribing in this patient population?
Daniel: I think we need to focus on several things. We need to understand the barriers of deprescribing, in order to be able to address them in everyday practice. I know from myself how unpleasant it feels to take away a treatment from a patient, but we need to dig deeper into why this is, and how we can alleviate this. Also, we need to develop and test both simple and more complex deprescribing interventions to understand what, where, and how we can achieve a permanent change.
Q: Last but not least: What is your most satisfying deprescribing target?
Daniel: Some of the easy targets like long-term paracetamol because everyone is treated with them, and you get rid of a lot of pills. Proton pump inhibitors and low-dose loop-diuretics are also satisfying to deprescribe because the general practitioners state that the patients often do not notice that they are gone, at least if tapered slowly. Also, as-needed treatment with systemic antimycotic drugs, because a discussion on drug-drug interactions and CYP inhibition always follows, and if there is one thing we clinical pharmacologists love to talk about, it's drug-drug interactions and the CYP450 system.
Lowering the anticholinergic burden in some patients has also been very satisfying. A couple of times I have heard about substantial decrease in patients' unspecific complaints when I talk to the general practitioner afterwards.
If you have any questions for Daniel, you can reach him via email ([email protected]) or on Twitter (@dphdk). You can also read more about the virtual pharmacology outpatient clinic here: http://www.telefarmakologi.dk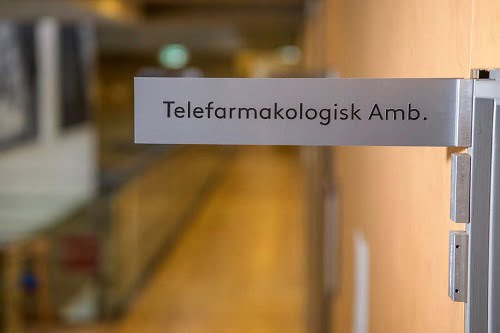 ---
The deprescribing blog is hosted by pharmacists and PhD students, Carina Lundby and Wade Thompson. We hope to be your new best deprescribing friends and supply you with deprescribing content and analysis on a biweekly basis. Please reach out to us if you have any questions or comments, or would like to contribute.
[email protected] (Twitter: @CarinaLundby)
[email protected] (Twitter: @wadddee)