Older adults living in long-term care (LTC) homes often take many medications each day – sometimes this is not necessary and can even be harmful. Decisions about the best medications for residents are best made when people work together with their healthcare providers. Everyone within a LTC resident's care team can help make medication-related care safe and effective.
Working with stakeholders from across Ontario's LTC sector, our team has identified four behaviours that help deprescribing – reducing doses or stopping medications – to become a part of the culture of care. For more information about how we identified these behaviours, click here.
Our stakeholders helped us create resources that can be used to help people living in LTC homes, their families, caregivers, and healthcare providers adopt these behaviours. If you are a person living in LTC, or are involved in the care of someone who is living in LTC, you can download these tools and resources and put them to use.
Four Target Behaviours to Promote a Culture of Deprescribing
The following 'Shared Decision-Making Conversations" videos illustrate how shared decision-making discussions could look. They could be used as part of new resident/caregiver orientation, education sessions or staff training.
Agatha Smith
Agatha Smith is an 87 year old woman who recently moved in to a LTC home due to increasing care needs following a hip fracture from a fall at her retirement home. Agatha is living with a moderate-severe level of dementia, which seemed to worsen after her fall. Agatha's daughter, Sophie, is meeting with Dr. Jones, the physician at the long-term care home who is caring for her mother, to discuss some concerns she has about her mother's medication.
Prada Balamurali
Prada Balamurali is an 84-year-old woman who has been living in a LTC home for the past year. She is living with moderate-severe Alzheimer's disease dementia. Her husband, Ranbi Balamurali continues to live at their family home and visits his wife every other day. He is meeting with Dr. Dodds, the physician at the long-term care home who is caring for Prada, for her annual care conference.
Donald Wright
Donald Wright is a 79-year-old man with moderate dementia who has been living in LTC for the past 8 months. Sue, Don's sister, visits him twice a week as a designated essential care partner. Over the last several weeks, Sue has noticed that Don is less communicative and sleepy when she visits. Sue is concerned and initiates a conversation with Dr. Rashid to discuss her brother's care plan.
Grace Wilson
Grace is a 93-year-old woman living in LTC due to increased care needs. She has been having issues with diarrhea, which she finds embarrassing and problematic. She has asked to speak with Dr. Casey to discuss this.
2) All healthcare providers and personnel will observe for signs and symptoms in the people they care for, reporting changes as a result of medication adjustments, or changes that might prompt review for deprescribing.
Identifying People for Medication Assessment – A Guide for Long-Term Care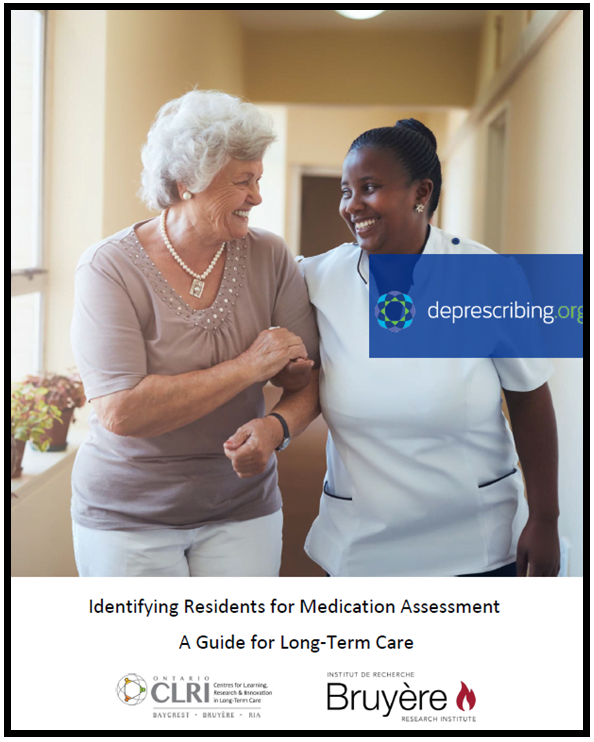 The Identifying People for Medication Assessment – A Guide for Long-Term Care is an instructive document that can be with all staff, including personal support workers (PSWs) who are directly involved in a resident's care. The guide provides information that can help PSWs and other LTC staff identify signs and symptoms in a resident that may be related to medications. The guide then outlines a process that PSWs and other LTC staff can follow to 'flag' these concerns to other members of the care team, which may then prompt a medication assessment.
Identifying People for Medication Assessment infographic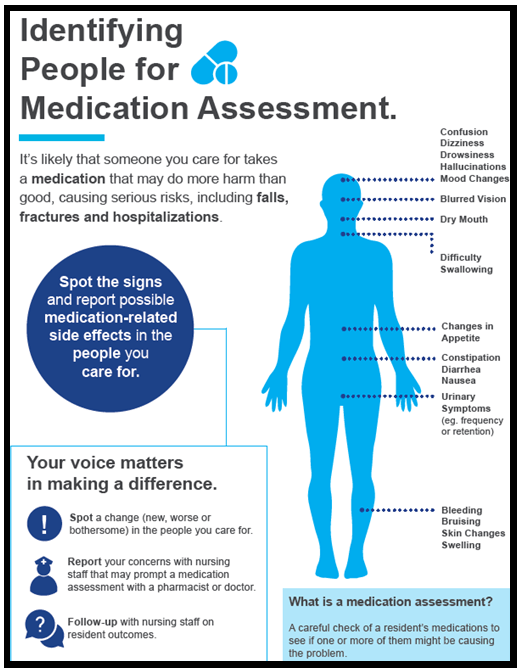 The Identifying People for Medication Assessment infographic summarizes key steps from the guide in poster/handout format. It can be posted in LTC homes to help those that interact with residents on a regular basis, such as PSWs or family members, recognize when a medication may be causing a problem. The infographic also outlines the steps to follow to report any changes they see in a resident's condition.
Identifying People for Medication Assessment PowerPoint Presentation
3) Prescribers in every healthcare setting will document reasons for use, goals and timelines for each medication.
Check back later for resources designed to support this behaviour.
4) All members of the healthcare team will participate in conversations about deprescribing.
Check back later for resources designed to support this behaviour.
If you would like to share your thoughts about any of the resources provided on this web page, please send us an email at

[email protected]

.
How were the behaviours identified and how were these resources and tools developed?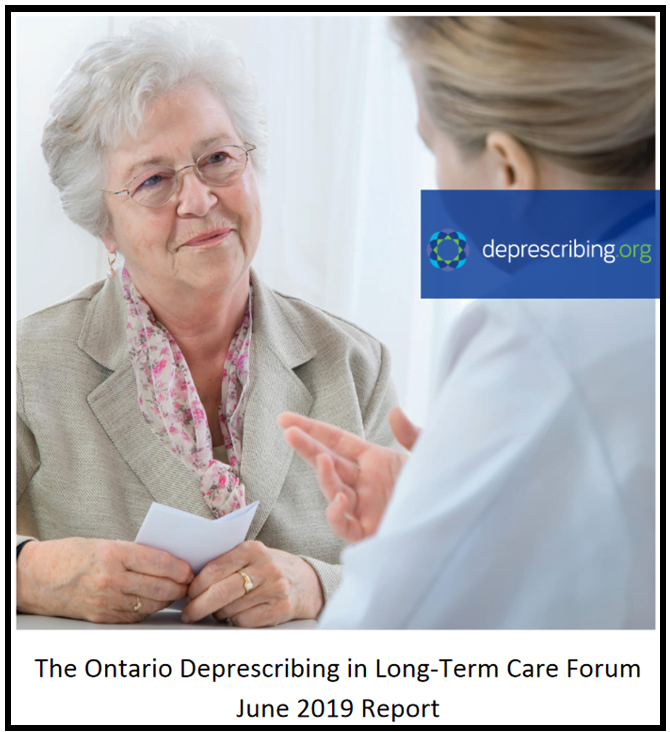 To support people in having discussions about when to continue, reduce, or stop a medication, our team has partnered with the Ontario Centres for Learning, Research and Innovation in Long-Term Care (Ontario CLRI) at Bruyère and LTC stakeholders from across Ontario. Our team hosted two Stakeholder Forums in 2019 and 2020 to develop a framework that would facilitate regular deprescribing practices within Ontario's LTC homes.
During these forums, stakeholders identified behaviours that would help people integrate deprescribing into daily living in LTC, as well as actions that would support these behaviours. Click here to access the Ontario Deprescribing in Long-Term Care Forum Report to read more about the history of this partnership, as well as how these behaviours and actions were identified. Since August 2019, our stakeholders have worked with us to develop resources that would help people within the LTC setting cultivate these behaviours.