CaDeN Deprescribing Fair is Coming to Ottawa!
Join our host Steve Madely in Ottawa on Wednesday, December 13th to learn more about medication safety and deprescribing. This is a free event to attend.
Date: Wednesday, December 13th 2017 from 9:30am to 11:30am – short presentation begins at 10:00am
Where: 6th floor, Jardin Gilbert Paquette Garden, Élisabeth Bruyère Hospital
Cohosted by: The Canadian Deprescribing Network (CaDeN) and the Ottawa Bruyère Deprescribing Guidelines research team
Steve Madely is the retired host of "Madely in The Morning" radio show on NewsTalk Radio CFRA. Steve has been a longstanding supporter of a broad range of community organizations including The Bruyère Foundation, Ottawa Hospital Campaign for Health Research, and the Queensway Hospital Foundation.
More Information or Questions? If you have questions or would be interested in showcasing what your team does to support non-pharmacological approaches to symptom management please email us at Deprescribing@bruyere.org RSVP not required.
---
Evidence Based Deprescribing Guideline Symposium 2018
Three day international invitational symposium on deprescribing guidelines development, implementation, education and evaluation to be held on March 26th, 27th and 28th 2018
Day 1: Monday, March 26, 2018
Focus: Developing GRADE evidence- based deprescribing guidelines
Target audience: Developers of clinical guidelines
Day 2: Tuesday, March 27, 2018
Focus: Implementing evidence-based deprescribing guidelines
Target audience: Implementers of evidence-based deprescribing guidelines
Day 3: Wednesday, March 28, 2018
Focus: Developing deprescribing guideline curricula; evaluating deprescribing guideline impact
Target audience: Educators and researchers
Registration Information Coming Soon!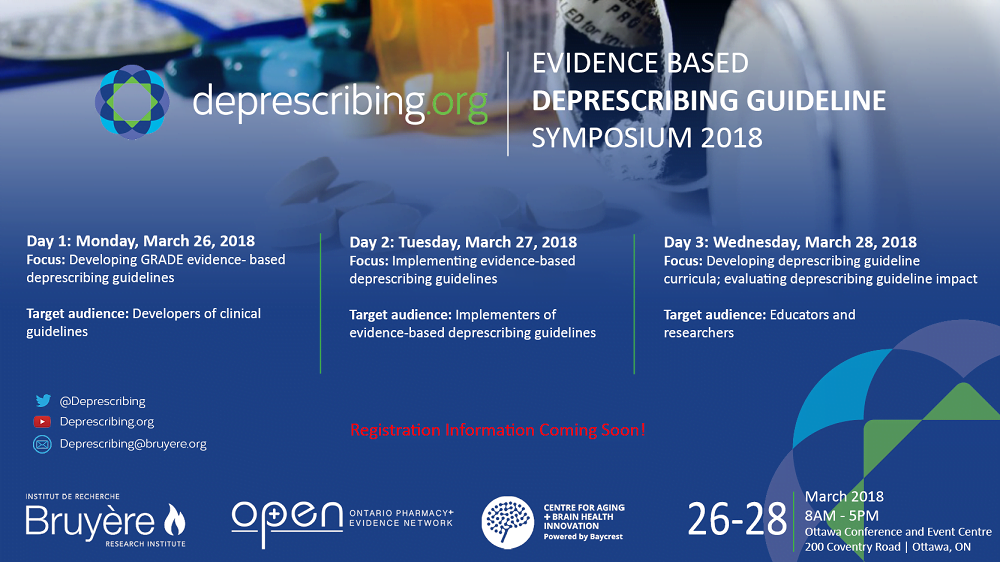 Alan Cassels talks about the CaDeN's work in tackling the high use of prescription drugs among seniors in a CBC News article.
Read past issues of the
deprescribing.org: Update
Read current and past issues of the
Canadian Deprescribing Network (CaDeN) Newsletter