Hi everyone, welcome to our second guest blog post. Today we will have Drs. Emily Reeve and Danijela Gnjidic telling us about the annual meeting of the Australian Deprescribing Network.
2019 Australian Deprescribing Network (ADeN) Annual Meeting
By: Dr. Emily Reeve ([email protected], @Reeve_Research) and Dr. Danijela Gnjidic ([email protected], @DanijelaGnjidic)
The 2019 Australian Deprescribing Network (ADeN) Annual Meeting was held in Sydney, New South Wales on December 4th. This meeting marked the sixth consecutive annual meeting which brings together researchers, clinicians and other stakeholders to discuss deprescribing research and initiatives in Australia. The day was organized by co-chairs Dr. Danijela Gnjidic and Dr. Carl Schneider from the School of Pharmacy, University of Sydney. Associate Professor Ian Scott (Department of Internal Medicine and Clinical Epidemiology, Princess Alexandra Hospital, Queensland), Chair of ADeN, opened with a summary of important international deprescribing research that occurred in 2019, setting the scene for the day.
This year the meeting focused on two topics which are gaining increasing interest due to their importance for enhancing deprescribing in clinical practice: evidence-based deprescribing guidelines and patient educational materials to engage consumers in shared decision making about deprescribing.
The deprescribing guidelines session was kicked off by Prof Lisa Bero, internationally renowned expert in evidence-based medicine, who outlined the National Health and Medical Research Council (NHMRC) Guideline Development Process. Then ADeN was fortunate to have a presentation from Dr. Karla Soares-Weiser, Editor in Chief of the Cochrane Library, who discussed conducting systematic reviews and the challenges of synthesizing the evidence in certain areas of non-traditional research. Dr. Emily Reeve completed the session with a presentation on developing evidence-based deprescribing guidelines to robust standards, with the example of the cholinesterase inhibitor and memantine deprescribing guideline. Following this session, attendees were able to catch a glimpse of the complexity that goes into developing an evidence-based deprescribing guideline in two interactive workshops.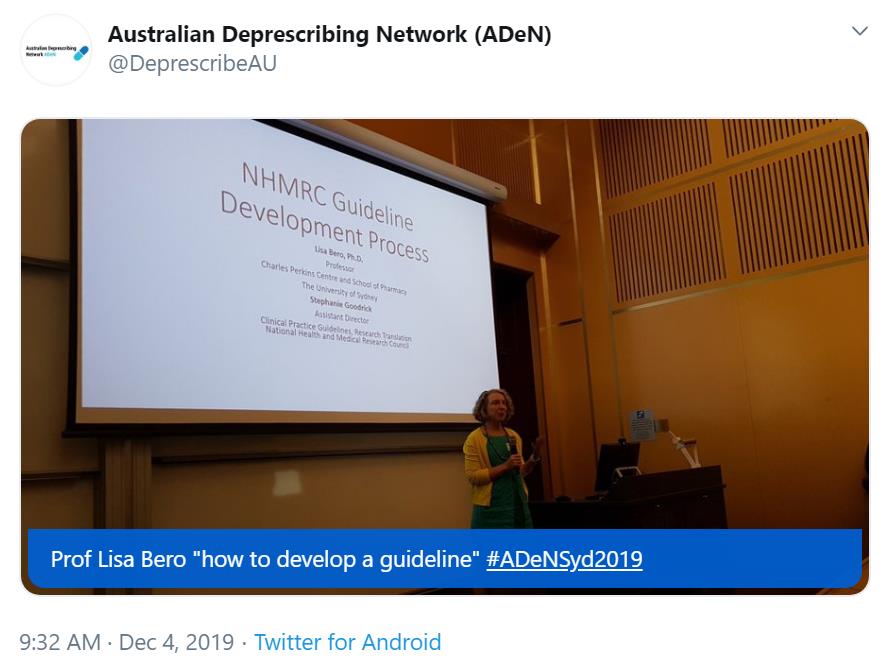 In the session on patient educational materials, Prof Parisa Aslani shared her expertise on how to develop consumer medicines information resources. This was followed by two presentations describing innovative research projects: the development of deprescribing patient materials for use in Australian hospitals (presented by Dr. Natalie Jokanovic) and the development of a conversation guide for medication reviews (presented by Debbie Rigby on behalf of Kristie Weir).
The afternoon sessions gave the opportunity for students and early career researchers to share their research. Firstly, in a rapid-fire electronic poster session, presenters were challenged to engage the audience in their project in only 1 minute. This was followed by 15-minute presentations. A range of projects were presented showcasing the variety of research occurring across Australia. Among others, we heard about patterns of prescribing and deprescribing across Australia, the potential economic benefits of deprescribing, and how we can improve opioid and sedative deprescribing in practice.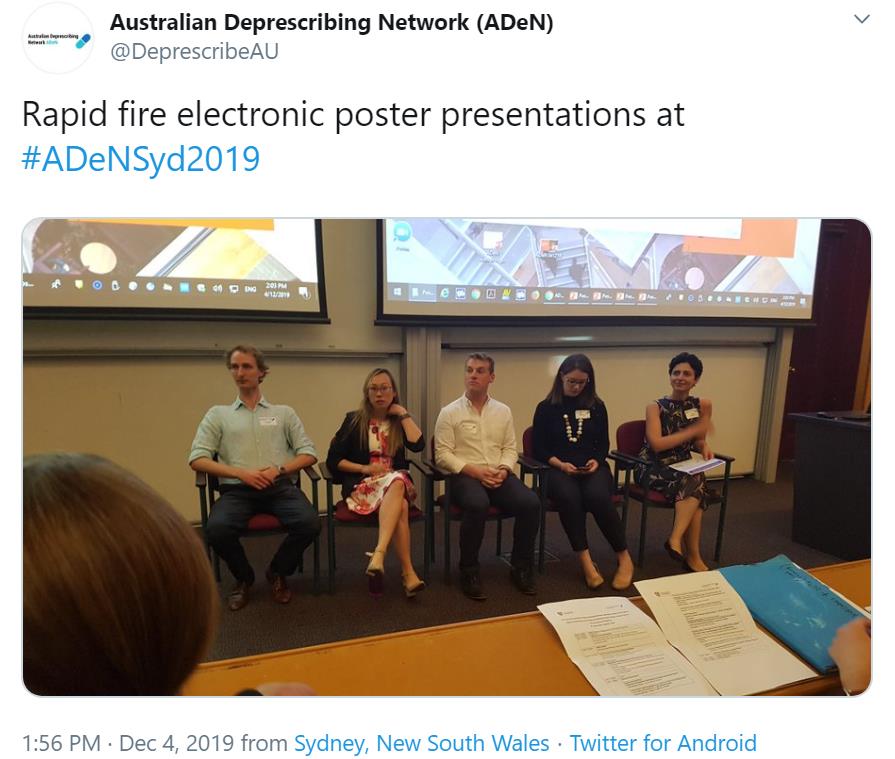 In the final session of the day, we heard from guest speaker Dr. Ray Moynihan, about overdiagnosis. Dr. Moynihan said:
'There are unique opportunities for the overdiagnosis and deprescribing fields to learn from each other and to form synergizes to progress research in both fields'
This was further discussed at a joint symposium at the Preventing Overdiagnosis Conference which was held in Sydney from the 5th of December 2019.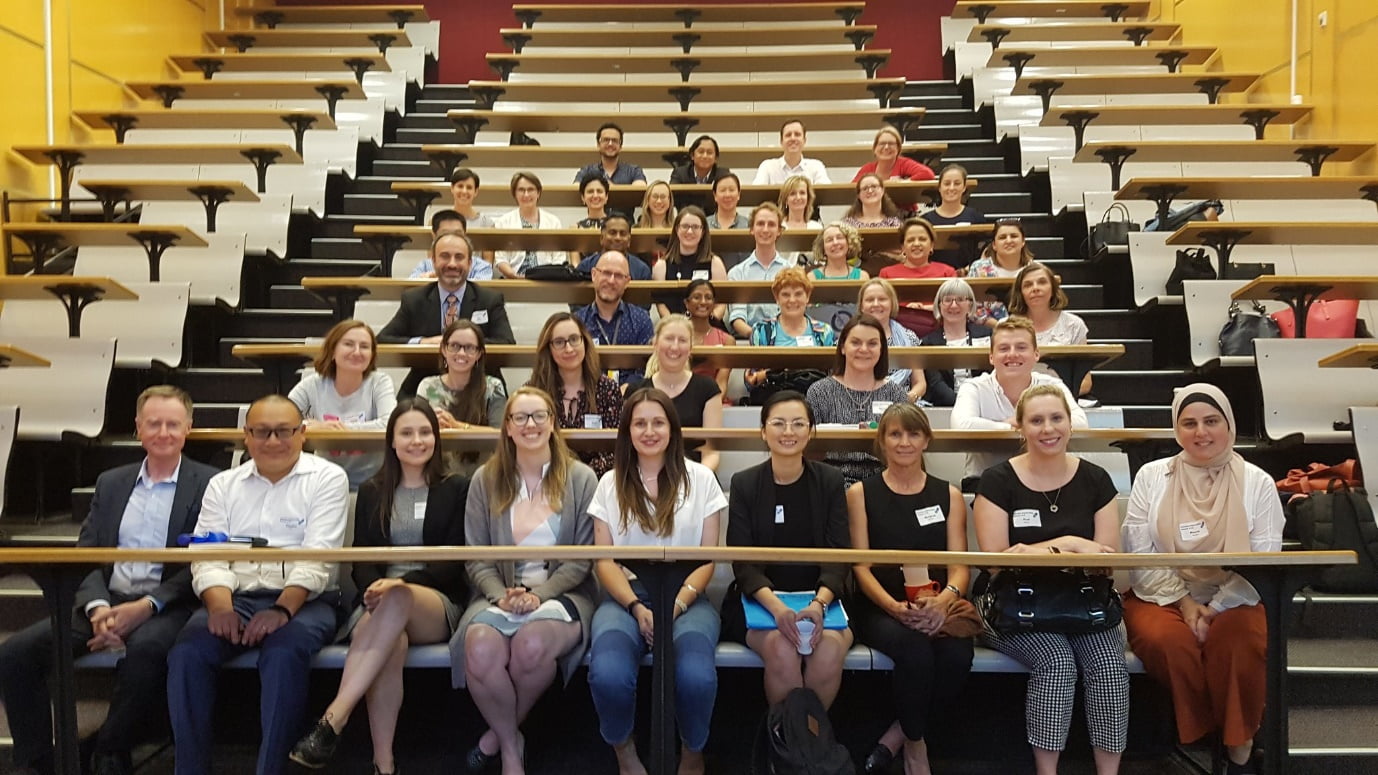 The 2020 ADeN Annual Meeting will be held in Perth, Western Australia – keep an eye out for details.
Follow us on Twitter at @DeprescribeAU!
The deprescribing blog is hosted by pharmacists and PhD students, Carina Lundby and Wade Thompson. We hope to be your new best deprescribing friends and supply you with deprescribing content and analysis on a biweekly basis. Please reach out to us if you have any questions or comments, or would like to contribute.
[email protected] (Twitter: @CarinaLundby)
[email protected] (Twitter: @wadddee)