Another week, another blog post!
Back in November, The US Deprescribing Research Network (USDeN) was launched. This network joins the growing list of existing networks, including The Canadian Medication Appropriateness and Deprescribing Network (CADeN), the Australian Deprescribing Network (ADeN), the English Deprescribing Network (EDeN), and the Northern European Researchers in Deprescribing Network (NERD). It's almost getting hard to keep track! To get a little more insight into the structure, goals, and visions for the network, we talked to Dr. Cynthia Boyd and Dr. Michael Steinman, the founders of USDeN.
Welcome to the deprescribing.org blog's first interview post!
Q: First off, what is the US Deprescribing Research Network (USDeN)?
Cynthia and Mike: We are a network of investigators and stakeholders who are focused on improving research on deprescribing for older adults. We aim to support and grow research on deprescribing that is scientifically rigorous and responsive to the needs of the people who are the end-users of that research – patients, caregivers, clinicians, and health systems leaders. We seek to build a community of people interested in this topic and to collaborate with related networks and people.
Q: So, while you are a research-focused network, there is a very clear focus on the end user. In your minds, what are some of the focus areas that will be important to affect a real change in clinical practice and patient outcomes when it comes to deprescribing and polypharmacy in older persons?
There are many emerging programs and interventions focused on deprescribing for older adults, but clinicians and health systems need to know what works best and for whom, so we want to identify which types of interventions and which targets of deprescribing provide the greatest benefit. We believe that good communication is essential for deprescribing, so we are interested in finding optimal ways to communicate around deprescribing decisions. Finally, it can be difficult to assess and compare different studies of deprescribing if we are all using different measurement tools and outcomes, so we are interested in developing common measure sets and approaches that can create a common scientific language across different studies of deprescribing.
Q: Those sound like some key areas to address. Do you have any specific projects underway already?
Our network provides resources and tools for any researcher or stakeholder to advance their own research interests in deprescribing, and also supports specific scientific projects. For the first part of this, we have launched our website which provides a series of online resources, we have begun a regular webinar series, we have opened a funding opportunity to fund pilot and grant planning awards, and we are planning our first annual meeting, to be held on May 6 in Long Beach, California, USA, in conjunction with the American Geriatrics Society. Other activities will be rolled out in the near future. For the second part, we are currently supporting 3 pilot studies. These include a qualitative study of decision-making around anticoagulation among people with dementia, a large database study of diabetes medication overuse and deprescribing opportunities, and a study of older adults' attitudes and preferences for how deprescribing recommendations are discussed. We have also begun two projects led by network working groups – a systematic review to identify high-value targets for deprescribing and a review to identify measures to be used in deprescribing research.
Q: So there is already a lot going on. We did notice that you have a lot of great resources up on your website, and it looks like one of the outputs of USDeN will be to develop resources related do deprescribing. What kinds of resources can we expect from USDeN?
We have linked to a number of resources for patients and families from a number of partners, and have a page focused on resources for clinicians. We are also in the process of building resources focused on human subjects and data safety monitoring, a repository of ongoing and complete deprescribing studies, and a review of measures applicable to deprescribing research. In the coming years, we will be developing other resources such as best practice guides for using electronic health data for deprescribing research.
Q: Are there other major outputs we should expect from USDeN?
Our other major output is intangible but perhaps the most important of all – helping to build community, fertilize collaborations and mutual learning around deprescribing research, and get people energized about potential opportunities to conduct high-quality, relevant research on deprescribing that will drive the field forward and ultimately help improve care and outcomes for older adults!
Q: So it sounds like community-building and collaboration will be a major part of USDeN. What kind of collaborations are you looking for?
First, we seek to build these connections among researchers from many different disciplines and backgrounds. A major focus is on junior investigators – we want to mentor and foster researchers who will lead the way in future deprescribing research. Second, we are focused on having stakeholder engagement in all of our areas of research – including older adults who are patients, their families, and loved ones, and institutional stakeholders like health systems and non-profits. Third, we aim to build collaboration among organizations, such as deprescribing networks in other countries and programs of research focused on deprescribing at individual or collaborative sites. We also aim to connect the communities of people interested in deprescribing across professional societies – we fully recognize research on deprescribing is growing in primary care, geriatrics, nursing, hospitalist medicine, pharmacists, and more. Developing cross-talk is a key goal of ours.
Q: That's great. It sounds like USDeN will facilitate a lot of collaborations among deprescribing researchers and stakeholders. Is there anything else you want to tell us about USDeN?
Join us at www.deprescribingresearch.org. We believe that the network really is about the people and communities who come together to do great work focused on improving deprescribing research, so we want to warmly welcome all of you to the network. Follow us on Twitter, @DeprescribeUS, and click the "join" button on our website to be added to our mailing list that will post intermittent updates about news and opportunities related to deprescribing research.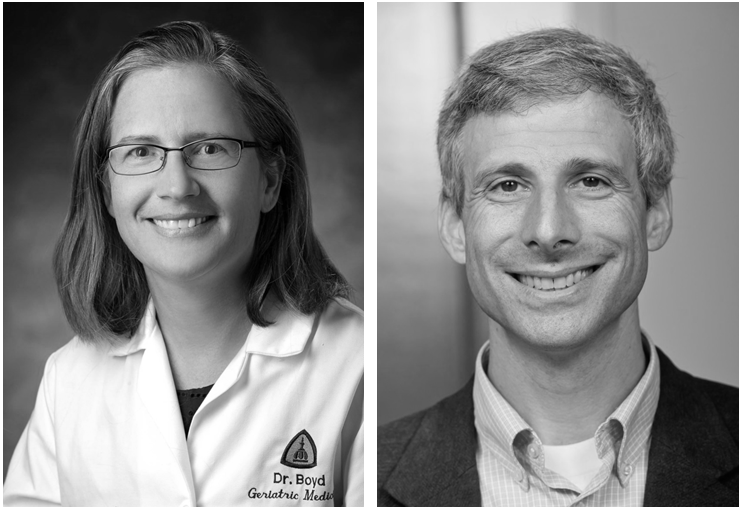 You can reach also reach Cynthia and Mike on Twitter:
Cynthia Boyd (@cynthiaboyd16)
Mike Steinman (@MikeSteinman)
The deprescribing blog is hosted by pharmacists and PhD students, Carina Lundby and Wade Thompson. We hope to be your new best deprescribing friends and supply you with deprescribing content and analysis on a biweekly basis. Please reach out to us if you have any questions or comments, or would like to contribute.
[email protected] (Twitter: @CarinaLundby)
[email protected] (Twitter: @wadddee)